| | |
| --- | --- |
| | State 1™ for Windows |
| | First in Financials |
PRODUCE CUSTOM FINANCIAL REPORTS QUICKLY AND EASILY
With the staggering amount of information available in general ledgers, it can take hours of tedious work, month after month, to create the powerful reports you can generate in just minutes with State 1. State 1 is easy to learn, easy to use, and easily produces powerful financial reports. Print profiles allow you to print any combination of reports in a single print run.

Quick Start Templates
All editions include 12-15 quick start templates. The quick start templates use general ledger data to build the report layout and are ready to run or customize.
ALL THE GRAPHICAL POWER OF WINDOWS
State 1 for Windows gives you the power of Windows desktop publishing.
Layout screen with color and fonts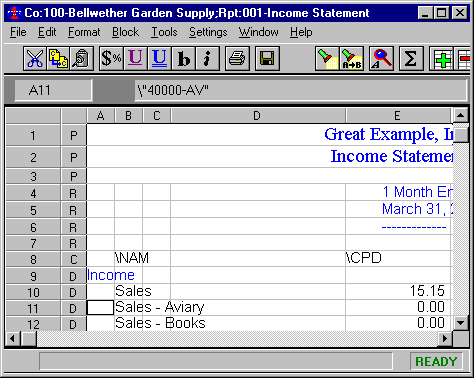 IT'S EASY TO LEARN – WORKS LIKE A SPREADSHEET
If you're comfortable with a spreadsheet program, you'll love State 1 because it looks and feels just like a spreadsheet. Isolate the data that's relevant, analyze it in a way that's meaningful to you and then print it just the way you want it.

SHORTCUTS TO MAKE YOU MORE PRODUCTIVE
Auto Rows Specify the values and descriptions you want in your columns. Type in the account number once for a row and State 1 fills in the rest.
Auto Ranges As with auto rows, specify what you want in columns. Then just specify the range of accounts that you want and State 1 will create the needed rows and fill in the data.
Text Functions Data like company name, report name, dates, etc. are automatically updated and entered.
Standard Report Templates Save time by modifying one of the ten standard or five add on templates pre-loaded in State 1.
Multiple Account Cut & Paste Multiple lines of account specifications can be pasted at the same time. Substantially reduces the time needed to create specifications for contiguous rows or columns.
Search and Replace As with a word processor, you can search and replace whole strings of characters all at once. Ideal when changing the same data in a number of cells.

LAYOUT REPORTS IN A SPREADSHEET ENVIRONMENT
Create your own custom reports including:
Statements of Cash Flows

Gross Profit or Margin Analysis

Fund Accounting

CPA's compilations for reviews and audits

Side by Side Departmental Statements

Flexible Summary Reporting by Department

12-Month Comparative statements

Proforma Budgets by Month

Mix Balances, Activity, Budgets, Ratios in any order
BASIC FEATURES MAKE LIFE EASIER
Place account data and text anywhere on the page. You decide what the report will look like. Page size only limited by what your printer can print.

Copy reports within the same company or to a different company. Save time by modifying a similar report instead of creating a new one.

WYSIWYG (What you see is what you get). No more guessing how a report will look when printed.

Reads data directly from the general ledger. No importing or retyping required.

Compute any ratios or percentages using spreadsheet formula routines.

Special features make setting up a report for the first time fast and easy.

Update existing reports with next month's numbers at the touch of a button.

Analyze data for as many periods as your General Ledger has data.

Any combination of account data may be added together.

Account wildcard summing similar to DOS wildcarding.

Round numbers 12 ways. Round percentages 3 ways. Allows your reports to look exactly like you want them.

Place optional dollar and percent signs only where you want them.

Export reports in Excel or Lotus format for use in graphics or spreadsheet packages.

Allows up to 999 reports per company.

6 standard income statement templates, 3 standard balance sheet formats and an SFAS 95 cash flow template. Extended library of additional 5 income statement and budget templates can be purchased separately.

Powerful departmental reporting feature allows you to define you own set of department groups for rollup reporting.

Backwards compatible – contains feature to convert State 1 for DOS report layouts.

ADVANCED PRINTING FEATURES MAKE YOUR REPORTS PERSUASIVE
All the desktop publishing features available in Windows software are at your disposal including true type and postscript fonts; borders, lines and patterns; color for text, lines, background and patterns: and more…

Page headers, footers and column titles can repeat automatically to save formatting time.

Automatic centering and/or left-right justifying of type when desired.

Use print profiles (also called report books) to predefine sets of reports that can then be printed as one request. Alternatively, print a range of reports or multiple selected reports with one request.

Optionally, automatically suppress zero lines on printed report to fit more data on a page.
SYSTEM REQUIREMENTS
A minimum of a Pentium or compatible PC is required. 128 MB of RAM is required and 256MB or more is recommended. State 1 operates under Windows 98, ME. 2000, NT (4.x), XP and Vista.
Copyright© Haskin Technologies Inc. 1999-2007